How to launch an SEO campaign
1. Analyze your website setup
The first check to make before launching an SEO campaign is to review your website. This is a step you need to perform once-off to ensure that your website doesn't have any major problems that can negatively affect the performance of your SEO campaigns.
If the above checks are successful then you can proceed with the next steps. If not then it is strongly recommended to solve any issues first otherwise it will be very difficult to run a successful SEO campaign.
2. Perform an SEO Audit
3. Set your Campaign Goals
4. Perform Topic & Keyword Research
Step-By-Step Example
Go back to Google and search for 'Facebook Marketing for small business'. You'll now notice that not all the results are occupied by big and well-known websites and that the type of content is not as thorough as in the case of 'Facebook Marketing'.
5. Craft your Page Title
The next step before writing the content is to craft your page title. The page title is the most important SEO element and besides being SEO friendly, it has to be unique and enticing for the users to click on.
6. Publish Great Content
Make it better – In order to have any chances of ranking in the top positions of Google, your content has to be better than what is already available. Carefully examine the existing content and think of ways you can make your content better.
Always consider the user and what they might like to see for a particular search query. For example, if you're writing a post comparing different tools then a comparison table might be a good fit. If you're writing a 'how-to' article then step-by-step instructions with images may be more appropriate than just plain text.
Don't take for granted that what is already ranking on Google is the best type of content. In the majority of cases, there are always things that can be improved if you approach the content creating process from a different angle.
Write in-depth content – For any chosen topic or keyword, there are probably hundreds of pages competing for a first-page ranking. Many studies have shown that long-form in-depth content, known as pillar pages, tend to show up more frequently in organic search.
Be transparent – Don't hide important information from users but be transparent. For example, if you're writing a blog post that contains affiliate links, make sure you mention this at the beginning of the post and don't' hide this info in your footer or small letters.
Demonstrate your authority and expertise – For certain topics and keywords is not enough to show who wrote the post but it's necessary to mention why users should trust the advice given by the author.
E-A-T which stands for Expertise, Authoritativeness, and Trustworthiness, are elements that are part of the Google ranking factors, and they directly or indirectly affect the position a website will appear in Google search results.
Be different – Writing the same content in different words is not the best approach to follow. Instead, try to come up with something different than what is already on Google. This way users will have an alternative resource to learn more about a topic and Google likes that.
Pro Tip: If your SEO campaign goals are to get organic traffic for topics that you don't already have any presence at all, then you can consider creating a topic cluster. A topic cluster is a collection of pillar pages and non-pillar pages, related to the same topic. For more information read this guide.
7. Work on Your On-Page SEO
8. Promote your Content (Internally and Externally)
Sending unsolicited emails to hundreds of webmasters begging for links is not the best way to promote your content. What you should do instead is to strategically reference other websites in your content and great a list of people that would love to promote your content.
Key Learnings
One of the best ways to maximize the return of SEO is to run targeted SEO campaigns. By breaking down your overall SEO goals into smaller tasks and running an SEO campaign for each, you'll be able to achieve better results.
Before you start a campaign, it is highly recommended to review your website setup and overall SEO healthiness by running an SEO audit. Any critical issues in your setup or technical SEO can negatively affect the performance of your SEO campaigns.
Once you are past this step, you can safely move on to launch a new SEO campaign (targeting different topics and keywords) but don't forget to come back every month and monitor the performance of your running campaigns.
Alex Chris is a digital marketing consultant, author, and instructor. He has more than 18 years of practical experience with SEO and digital marketing. Alex holds an MSc Degree in eCommerce and has consulted with Fortune 500 companies in different industries. He blogs regularly about SEO and Digital marketing, and his work has been referenced by leading marketing websites. Connect with Alex on Twitter and LinkedIn.
Set up an SEO objective
The main SEO objective was to rank in the top three for "seo statistics" within three months. Another objective that would help to get us there was to build at least 20 high-quality backlinks to the page from an outreach campaign.
We SEOs can't really guarantee any results, but these objectives should still adhere to the popular SMART objectives guidelines. You need to find a good balance between the specific, measurable, achievable, relevant, and timely parameters of the objectives.
The time period is arguably the most difficult parameter to estimate. For better ranking objectives, I suggest going for at least three months, preferably even six months and more if your website isn't generally highly competitive on the SERPs.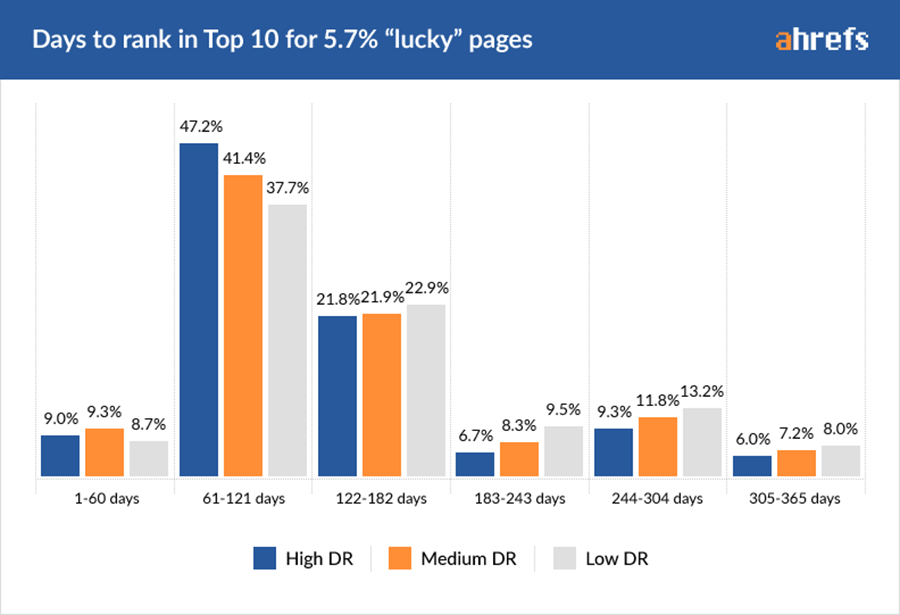 Domain Ranking (DR) shows the strength of a website's backlink profile compared to the others in our database on a 100-point scale. It's a solid proxy for assessing how competitive a website can be on the SERPs.
By the way, if your time frame is long enough (six months+), your keyword ranking and backlink objectives may eventually go hand in hand. The better the content's backlinks, the higher the chances that content will rank well. And the higher a page ranks, the more people will see it and link to it naturally.
Suggest search terms
We start with the client's wish list of search terms, then look for semantically similar terms. We work in reverse by using the core list to identify alternative search phrases. For example, if a client would like to rank well for "blue widgets" we will seek out additional phrases like "widgets in blue", "cyan widgets", and "where do I find blue widgets".
Identify "low-hanging fruit"
In many cases, a website will already rank to some degree for a given search phrase. For search phrases that have been identified as "converting" phrases (we call them "money terms") that are ranking high, but not high enough, we will focus special attention. Often website conversions can be dramatically improved by simply moving a given page up one or two positions in search results.
SEO Process
1. Historically optimize your content.
Devote some time each month to updating old blog posts with new and up-to-date information to continue ranking in SERPs. You can also use this time to add any SEO best-practices that weren't initially addressed, like missing image alt text.
2. Look out for changing keywords and new search intent.
After a few months, track how your blog posts are ranking, and which keywords they're ranking for. This can help you adjust subheadings and copy to leverage new search intent that your audience may be interested in.
3. Add more editorial value to your old content.
Sometimes, you'll find that a post is completely out of date. In this scenario, you should go beyond the average historical SEO update and give it a full refresh. You can do this by updating out of date information and statistics, incorporating new sections for added depth, and adding quotes or original data to give the post more referral traffic.
4. Create a monthly content plan.
To keep up with your SEO strategy, it can be helpful to create and refine a monthly content plan. You can place it into a spreadsheet, and your teams can track accordingly. The list below is an example of a content monthly content plan that takes the above steps into account.
Resources:
https://www.reliablesoft.net/seo-campaign/
https://ahrefs.com/blog/seo-campaign/
https://www.reputationx.com/solutions/seo/campaign
https://blog.hubspot.com/marketing/seo-strategy